Managing Occupancy: A Companion Guide to HUD's Occupancy Handbook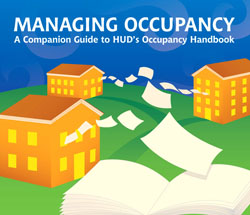 Managing Occupancy: A Companion Guide to HUD's Occupancy Handbook. This extensive reference simplifies the management of properties that operate with income restrictions. As a companion guide to the 4350.3, this resource is indispensable. Its 500 cross-referenced pages explain HUD's requirements in detail. It's like having a compliance specialist at your fingertips. Special features and contents include:
Cross Referencing –

The Guide has thousands of cross-references to the HUD Handbook and to other related materials within the guide itself. This ensures that you will quickly find the whole answer to each individual question.

Plain English –

Although the topic is complex, our text is approachable. Written in question-and-answer format for site managers and others responsible for compliance, this guide is designed to provide you with access to the 4350.3.

Practical Guidance from the Front Lines –

Scores of practitioners have provided practical insights into day-to-day occupancy management. This reference is not an academic text; it is a how-to manual.

All Relevant Programs –

Most materials apply to most properties, but specialized answers are included for properties with Section 8, Section 236, Section 221(d)(3) BMIR, Section 202 PAC and PRAC, Section 811, tax credits and tax-exempt bonds.

Fair Housing –

The new 4350.3 has a spotlight on Fair Housing. The Occupancy Companion is similarly focused. It includes an exclusive cross-reference to dozens of questions that explain occupancy issues related to Fair Housing.

Detailed requirements for all housing programs governed by the HUD Occupancy Handbook, including detailed guidance on family eligibility, citizen and immigration status, income limits and income targeting, calculating annual income and adjustments to income, unit occupancy considerations, rent setting, the resident selection process and tenant selection plans, screening, marketing to potential residents, and more.
Order this Book
This book has been removed from print circulation, and is no longer available.
Learn More…
Click here to return to the Publications page.